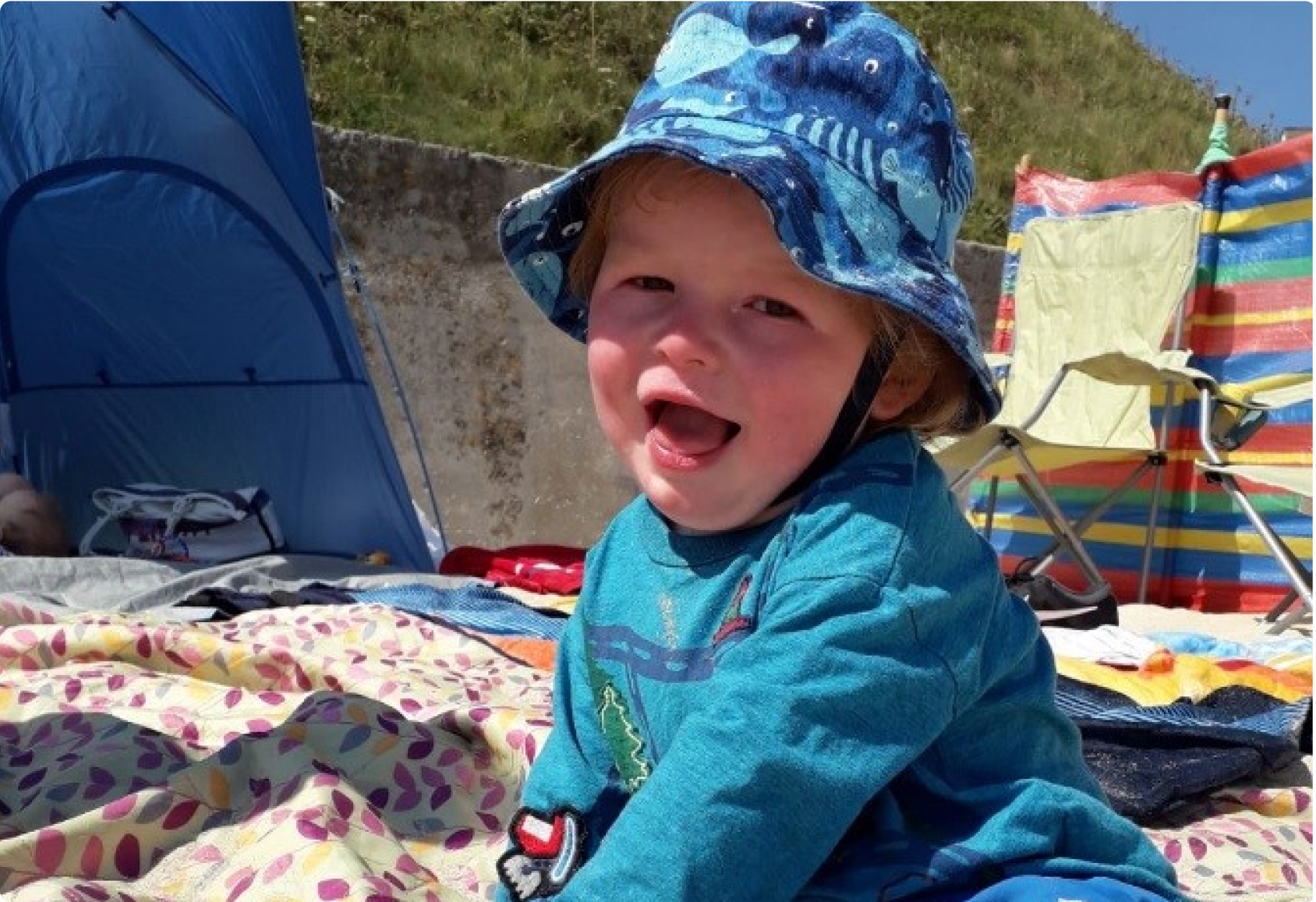 Arthur was born in July 2017 and appeared to be a perfectly healthy boy and passed through the normal health checks without any cause for concern. From the outset he was a very happy and contented character and for the first 5 months of his life everything seemed fine.
Sadly, that all changed and his parent's world unravelled on January 2nd 2018, a day that neither will ever forget. Dad had returned to work that day in the Royal Navy following the Christmas holiday. Working away during the week, whilst his family resided in mid Devon, he phoned his wife that evening at 8 pm as he did most nights.
Whilst on the phone to dad and holding Arthur in her arms, he suddenly went completely limp and lost all tone in his head and limbs. Mum hung up and dialled 999 immediately. Feeling incredibly helpless dad got in his car and began the drive home. Sadly, the ambulance took over 20 minutes to arrive at their home and by the time Arthur was admitted into hospital an hour had passed during which time both mum and paramedics had applied mouth to mouth resuscitation, desperately trying to keep him alive.
The next 3 months were a deeply distressing time for all of them. Arthur was stabilised first in Exeter hospital and then moved to Bristol Children's Hospital where he was fully diagnosed and treated. On examination it transpired that Arthur had a benign tumour on the inner chamber of his heart which had caused a cardiac arrest. Worst news was to follow when an MRI scan revealed that Arthur had experienced severe brain damage as a result of the cardiac arrest with his future prognosis extremely bleak. The family were warned that he may be deprived of sight, any physical movement and basic cognition. The family were at rock bottom.
The next few months were hard however it slowly became apparent that there was hope for Arthur. Bristol Children's Hospital provided wonderful care and after 2 weeks in intensive care, a recovery plan was put in place to address both his heart defect and his subsequent neurological injuries. During this time, mum lived with Arthur in the hospital whilst dad took compassionate leave to look after their older son. The family spent the weekends together as best they could and were supported hugely by family and friends. The Royal Navy were also incredibly supportive for which they will always be grateful.
With each passing week it became clearer as to the extent of Arthur's injuries. He retained his sight and what's more the twinkle still in his eyes gave them continued hope. It was decided that strong medication and the installation of an internal pacemaker was the best course of treatment in the short term however we were advised that the long-term solution was the removal of the tumour, an operation so specialised that it could not be conducted in the UK. Furthermore, it was an operation that would not be funded by the NHS.
Nonetheless, they were determined to do the best for Arthur and set about making preparations to take him to Boston Children's Hospital in the summer of 2019. It was here that a pioneering surgeon had developed ground-breaking surgery to remove such internal heart tumours having operated on over 40 children with similar conditions from all over the world. Having secured private funding for the operation, mum and dad travelled with Arthur last summer where his tumour was largely removed thanks to the brilliance of Dr Pedro Del Nido to whom they are also greatly indebted. During the 6-hour open heart surgery he also removed Arthur's defibrillator which was no longer required.
Throughout this turbulent period, the Naval Children's Charity were incredibly supportive and re-assuring. Dad had always been vaguely aware of their existence but never expected that he would ever need their assistance. The Charity took a keen interest in Arthur's case and their individual Caseworker, Sara Smith, was in regular contact with them without ever being invasive. Looking back, it was of huge comfort to both parents that they had an organisation such as the Naval Children's Charity in their corner.
Financially, the Charity generously offered to cover their flight and accommodation costs. They were and remain incredibly thankful.
A further act of generosity was the unexpected arrival of Christmas presents last December for both Arthur and his older brother. They were both delighted by the delivery and it has also had the effect of increasing their eldest son's desire to one day join the Royal Navy.
Arthur now attends nursery 2 days a week and has been given the all clear with regards to his heart such that he is no longer on any form of medication.
Regrettably, his brain injury remains, and it is still unclear if he will ever walk or talk but they remain hopeful given the progress they have seen since the original bleak prognosis. What is without doubt however is his unshakable thirst for life and the joy he brings to the family with his smile and happy demeanour.